Benefits of Infused Water
At Greek House Chefs, we understand how difficult it can be to get your daily intake of water. That's why we provide all of our fraternities and sororities Hydration Stations as a complimentary service. Each morning, our chefs choose their favorite combinations of fruit and herbs to infuse into their water. As students rush off to class or join us for meals, they are encouraged to fill up their water bottles with the healthy water selection of the day rather than selecting soda or sugary juice options. Hydration Stations are GHC's way of making water more enticing to students. It can be hard with the all-nighters, all the studying, rushing from class to class to slow down and remember to get some water. Coffee always seemed to be my go-to in college, and I certainly paid for it! If I had infused water available in my house, I would have been way more hydrated and saved myself a lot of headaches.
Infused waters are great not only because they taste good and make drinking water more interesting, but they have quite a few health benefits as well. Here's a few benefits of some of our most popular water flavors.
Lemon Water Infused Water Benefits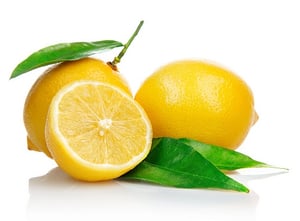 Lemons are a great source of vitamin C and vitamin B, calcium, magnesium, potassium and fiber.
Lemons help relieve gas and bloating. (too much late night pizza last night? Get some lemon in your water!)
Lemons help protect against immune system deficiencies.
Strawberry Orange Water Infused Water Benefits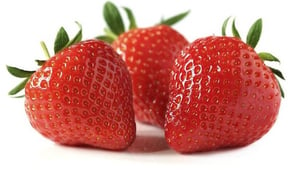 Both fruits are high in Vitamin C
Strawberries help regulate with your digestive system as well as helping skin irritations
Oranges can help regulate blood pressure
Blueberry, Strawberry, Mint Infused Water Benefits

This water combination is loaded with antioxidants from the blueberries, strawberries and, surprisingly, the mint!
Our favorite GHC recipe: Lemon, Lime, Orange, and Mint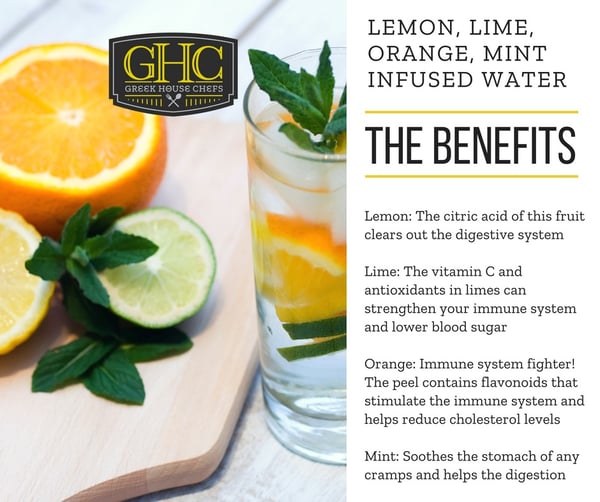 Next time you reach for a soda, consider making one of these infused water recipes, or stop by one of our Chapter's for a refreshing drink!

Related
In "Fraternity Food Service" , "Greek House Chefs" , "Sorority Food Service" , "Meet the Team"
In "Chapter" , "Blue Coat Chefs" , "Fraternity Food Service" , "Sorority Food Service" , "GHC" , "COVID-19"
In "Blue Coat Chefs" , "Fraternity Food Service" , "Greek House Chefs" , "COVID-19"