Breast Cancer Awareness in the midst of COVID-19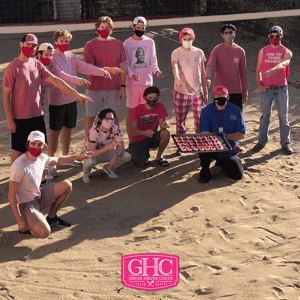 As many know, October is Breast Cancer Awareness month. Greek House Chefs is proud to show our support again this year by turning our kitchens all over the nation PINK all month long with pink Greek House Chefs chef coats, hats, and bandanas. This year, we have also added pink masks to make sure we are all staying safe while still rocking the pink and bringing awareness to this very important cause. This is something our chefs (and our students) have been looking forward to all year. They love sporting pink in their kitchens and showing their students how important of a cause Breast Cancer awareness and prevention is, and why we stand in solidarity with anyone who has ever been affected by Breast Cancer.
Because this year has been unlike any other year, we want to take this time to remind you that if you haven't made your breast exam appointment or have been meaning to reschedule it because of Covid-19 causing mass quarantines, now is the time! About 85% of Breast Cancer cases are in women who did not have a family history of Breast Cancer, so please don't let the "it won't happen to me" factor deter you from making your appointment. Every year we hear stories from our students, House Directors, parents in our chapters, and even our own Chefs that have been affected in some way by Breast Cancer. 1 in 8 women, and 1 in 1,000 men will get Breast Cancer in their lifetime. However, the good news is that the survival rate for those who receive early diagnosis of Breast Cancer is 99%! That is why it is so important for us to be apart of this campaign every year and bring awareness, or simply be a reminder for those who need it.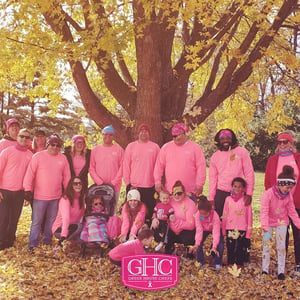 Last year our office had a great time participating in our local Susan G. Komen More Than Pink Breast Cancer Walk in Des Moines, IA. Unfortunately, Covid-19 has changed that this year. The Cancer Walk will still be going on, but much like everything else this year, it will be virtual. We encourage you to look into your local chapter and see how they are doing their Cancer Walk this year and how you can be apart of it!
We invite you to join us in the fight and we invite our partners within the Greek Life food service industry to do the same in raising awareness as we all have a big voice and we hope for all to use it for making a positive impact on the world.
To our students, House Directors, Board Members, employees, family and friends, we stand in support of you and we won't stop until we find the cure.
Related
In "Chapter" , "Blue Coat Chefs" , "Fraternity Food Service" , "Sorority Food Service" , "GHC" , "COVID-19"
In "Blue Coat Chefs" , "Fraternity Food Service" , "Greek House Chefs" , "COVID-19"
In "family friendly" , "Fraternity Food Service" , "Greek House Chefs" , "Greek Life" , "Sorority" , "Sorority Food Service"