Chef Feature: Jarrod Davis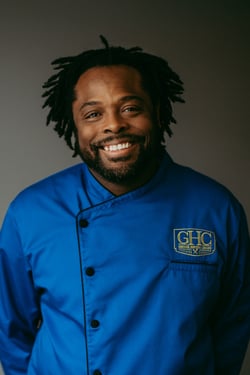 Meet Blue Coat Chef Jarrod Davis. More than just a chef, Jarrod is our Culinary Director at Greek House Chefs. As Culinary Director, Jarrod travels across the country training our Blue Coat Army to execute delicious food, top-notch service, and present an immaculate kitchen in Greek chapters across the country. Jarrod spends his days training and evaluating our chefs on the best way to produce from-scratch foods, teaching GHC standards, and making sure our kitchens run efficiently overall. Working alongside them in the kitchen, Jarrod is the perfect leader to our culinary staff because he's always leading by example. We often hear Jarrod say "Hey Chef, let me show you something," and then whip out an interesting chef trick he's picked up throughout his culinary career.
As a Clearwater, Florida native, Jarrod found his passion for food while watching his grandmother and mother cook for his family. He quickly realized that food was his passion, and it was time to bring that passion to light. He enrolled at Johnson and Wales University in Denver, Colorado and embarked on a journey of pursuing southern flavors. Upon graduation, Chef Jarrod and his family moved back to Florida to continue building his culinary career. Throughout his time in Florida he worked under many talented chefs in the Tampa Bay area such as Michael Mina, Chris Ponte, and Chad Johnson.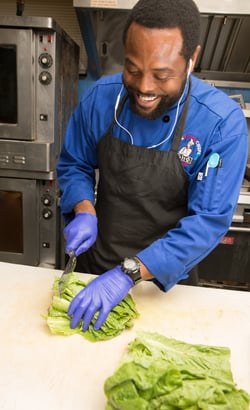 In the fall of 2016, Chef Jarrod was ready for a change and moved his family to Iowa to join the Greek House Chefs team. Jarrod started as a chef at a fraternity on the Iowa State Campus and excelled in the kitchen, bringing southern cooking to his Chapter. The Greek House Chefs management team quickly realized that Jarrod's talents exceeded far past cooking and noticed his talent for building up his team in the kitchen and being efficient while maintaining a high standard of service. In his time with GHC, Jarrod has helped put his stamp on the Greek House Chefs training program and further developed our signature Creation Stations.
Say "hi" to Jarrod the next time you see him in your kitchen with your Blue Coat Chef!