Fall Recipe Highlight: Apple Cinnamon Muffins
Grab and Go items are super important when you're a busy college student. Some days there is time for a sit down breakfast, but many days you barely have time to brush your teeth before you need to head out the door for class. Our Chefs know the busy life college students face every day and that's why we have options for everyone.
Today, we are highlighting Chef Lisa, our Blue Coat Chef from Gamma Phi Beta Iowa State University for her Fall Apple Cinnamon Muffins. If only smell-o-vision were a thing right now! Let's be honest, who doesn't love a muffin as a grab and go item? It's delicious, almost tastes like you're eating dessert for breakfast, and your stomach won't be growling for the whole class to hear during your Physics exam.
But don't take our word for it, we've laid out the recipe below so you can make these scrumptious Apple Cinnamon Muffins and see for yourself how great they are, and how wonderful they smell in the oven. You'll thank yourself the next time you head out the door in a hurry!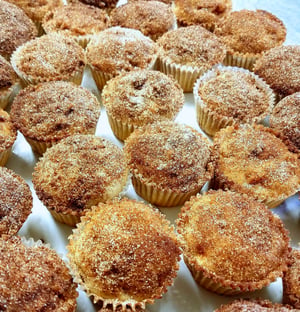 Apple Cinnamon Muffins
Prep Time 15 minutes
Cook Time 20 minutes
Total Time 35 minutes
Servings 12 muffins
MUFFINS:
1 cup all purpose flour
1/2 cup whole wheat flour
1/2 cup granulated white sugar
1/2 cup packed brown sugar
2 teaspoons baking powder
2 teaspoons ground cinnamon
1/2 teaspoon salt
1/3 cup vegetable or canola oil
1 large egg
1/3 cup milk
2 medium apples (peeled, cored & chopped)
TOPPING:
1/4 cup granulated white sugar
2 tablespoons all purpose flour
2 tablespoons butter, at room temperature
1 teaspoon ground cinnamon
INSTRUCTIONS
Preheat oven to 400°F. Grease a 12-cup muffin tin or line with paper muffin liners.
In a medium bowl whisk together dry ingredients.
Add oil, egg and milk and stir until combined.
Fold in apples.
Divide batter between the 12 muffin cups.
In a small bowl, mix topping ingredients, blending together with a fork.
Sprinkle over unbaked muffins.
Bake 15 to 20 minutes, or until a toothpick inserted in center of muffin comes out clean.
Related
In "Blue Coat Chefs" , "Greek House Chefs" , "Food" , "Recipe"
In "GHC" , "Recipes" , "Tips & Tricks" , "Recipe"