Fall Recipe Highlight: Halloween Pumpkin Whoopie Pies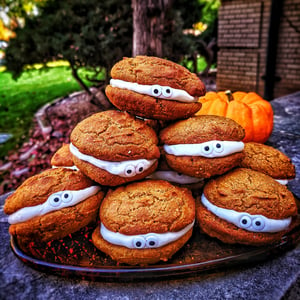 Halloween might look a little different this year, but that doesn't mean we aren't going to have a little fun! We plan on using this time to enjoy doing a few things we wouldn't get to do if we were out trick or treating. This year, it's all about the "treat" part of it all anyway!
There are so many great seasonal items to use during the fall, with pumpkin being one of our favorites! Blue Coat Chef Rachel shared her fun recipe mixing up all our fall loves: our love of Halloween, and a classic dessert we all loved growing up (compliments of Little Debbie), and our love of pumpkin everything.
These Pumpkin Whoopie Pies are so easy to make and are even more delicious than the ones we ate as a kid. We hope you will love them just as much as we did!
Thank you for sharing your fun recipe with us Rachel.
● 2 cup oat flour
● 1.5 cup rice flour
● 1 cup tapioca starch
● 1 cup sugar
● 2 teaspoon baking soda
● 2 teaspoon baking powder
● 2 teaspoons cinnamon
● ½ teaspoon ginger
● ¼ teaspoon nutmeg
● ¼ teaspoon salt
● 1.5 cup + 4 Tablespoon oat milk
● 2 cup pumpkin puree
● ½ cup coconut oil
● 2 teaspoon vanilla extract
● 2 teaspoon apple cider vinegar
Preparation
Mix all dry items, then add wet. Scoop onto a greased sheet pan.
Bake at 350 for 13 minutes.
After cooled, fill with cream cheese frosting and add googley eyes!
Related
In "Chapter" , "Blue Coat Chefs" , "Fraternity Food Service" , "Sorority Food Service" , "GHC" , "COVID-19"
In "Blue Coat Chefs" , "Greek House Chefs" , "Food" , "Recipe"