Greek House Chefs contributes to Breast Cancer Research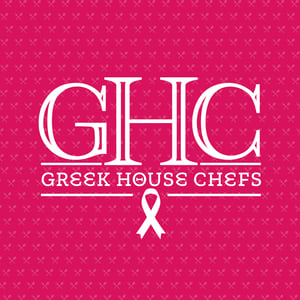 This year Greek House Chefs is excited to be participating in Breast Cancer Awareness throughout the month of October. Although we have always thought awareness for Breast Cancer to be important, we have never engaged in a campaign such as the one we are so proud to be doing this year. We started preparing for this long before October started, because we all know Breast Cancer isn't just prevalent in October, but in every day of every year.
Our chefs across the country are turning their kitchens PINK all month long with Pink Greek House Chefs chef coats, hats, and bandanas! Everyone is so excited to be sporting pink in their kitchens and showing their students how important of a cause Breast Cancer awareness and prevention is, and why we stand in solidarity with anyone who has ever been affected by Breast Cancer. Since our Chefs have been sporting their pink, we have heard many stories from the students, House Directors, and parents in our chapters that have been affected in some way by Breast Cancer and we have heard many thanks for showing our support in bringing awareness to a cause that means so much to them.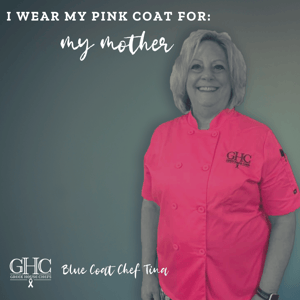 Although wearing a pink chef coat brings awareness, there is so much more to fighting against Breast Cancer. Not only are we wearing pink in our kitchens throughout the nation, we are also raising money for the cause. We are very excited that our team within the office will be participating in the Susan G. Komen More Than Pink Breast Cancer Walk in our home town of Des Moines, IA on October 26th.
We invite you to join us in the fight! If you would like to be a part of our campaign in raising awareness and trying to find a cure for Breast Cancer, we would love it if you could donate to our Greek House Chefs team. ALL proceeds go to Susan G. Komen. Click here to make your contribution to Susan G. Komen cancer research and prevention.
We invite our partners within the Greek Life food service industry to do the same in raising awareness and making a donation, as we all have a big voice and we hope for all to use it for making a positive impact on the world.
To our students, House Directors, Board Members, employees, family and friends, we stand in support of you and we won't stop until we find the cure.
Related
In "Fraternity Food Service" , "Greek House Chefs" , "Sorority Food Service" , "Meet the Team"
In "Greek House Chefs" , "Meet the Team"