Greek House Chefs is a family affair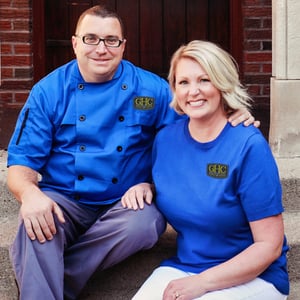 Did you know that Greek House Chefs is owned and operated by a Husband and Wife team? Carey and Corey Hansen have two great loves in their lives. Their daughters, and Greek House Chefs. When asked how that makes Greek House Chefs unique, Carey replied, "GHC has unique ownership. We are two people who love what we do. We cook together, travel together, and work together doing what we believe in: Cooking delicious food for college students and bringing students home for dinner (just like our own house) ".
When Greek House Chefs was founded in 2007, Owner and Chef Corey Hansen quickly became an Iowa State campus phenomenon. Cooking at one, then two, and then three chapter houses and growing rapidly, he knew that he needed help with the business side of things. So, he asked his restaurateur and food service sales expert wife to join him in the trenches. Leaving the food service sales position she loved at Loffredo Fresh Produce, she joined the Greek House Chefs management team and never looked back.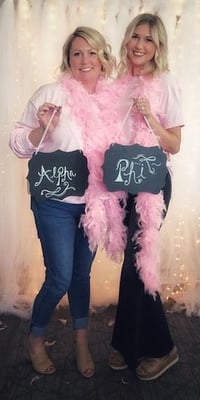 "Having four daughters of our own, we get it. Two of our daughters are college age, and one of them is an Alpha Phi. We have a connection to Greek Life food service unlike any other, and nothing makes me more happy than having a daughter that has joined Greek Life," says Owner, Carey Hansen. "Working together with my husband and cooking for college students feels like we are right at home, like cooking for a house full of our daughters and their very hungry friends on a Saturday night after a basketball game." With a high school senior ready to graduate, their third oldest daughter has her sights set on Iowa State University. Both Carey and Corey are crossing their fingers that fall rush is in her near future. "Knowing how Greek life can enhance a student's college experience, we hope that our next college-aged daughter decides that Greek life is for her," shares Corey Hansen. "If not, that's OK, we'll still make sure she is fed and fed well. After all, she is a Chef's daughter 🙂!
Running a business as a husband and wife team means that sometimes, you'll find Carey and Corey working on separate sides of the country. Whether they are traveling solo to conferences, alongside their sales team or catching a flight to help out in a kitchen, they are always on the go. "Working with my wife and our team of Chefs feels like working in the kitchen with family to me. I enjoy learning from our team and working with our Chefs to create an excellent experience for our hungry fraternity and sorority members," shares Corey.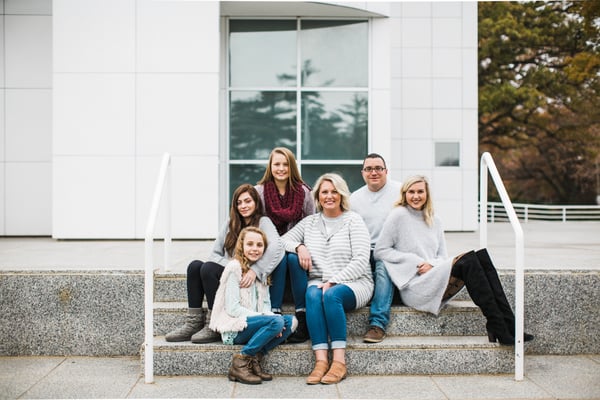 When you do business with Carey and Corey Hansen, you join the Greek House Chefs family. "Our clients have our personal cell phone numbers. They can call us any time with questions, feedback or just to catch up and say 'hi'. Those are our favorite calls to get," says Carey.
To visit with Corey, Carey, or our team of professionals about how GHC can bring your students home for dinner, visit www.greekhousechefs.com and we will reach out personally.
Related
In "Fraternity Food Service" , "Greek House Chefs" , "Sorority Food Service" , "Meet the Team"
In "Greek House Chefs" , "Meet the Team"
In "Chapter" , "Blue Coat Chefs" , "Fraternity Food Service" , "Sorority Food Service" , "GHC" , "COVID-19"