Helpful Tips for Closing Down your Chapter Kitchen for the Summer
The birds are chirping, the sun is shining (finally!) and students are prepping for finals before packing up and heading home for the summer.
While our students are taking their finals, our Blue Coat Chefs are preparing for a final of their own, the final walkthrough of their kitchen on the last day of service. Just as students are packing up and heading out for the summer, so are the chefs that cook in their kitchens. Most chapter houses are shut down for a little break over the summer, which means that kitchens need to be cleaned up, and everything needs to be properly stored for a few months while the house is shut down.
There's a lot that goes into cleaning, sanitizing, organizing, and storing your kitchen for the summer. We've compiled a few helpful tips that you may not think about in the process of summer shut down.
Feel free to share this with a chef or House Director that you know is closing down their chapter for the summer.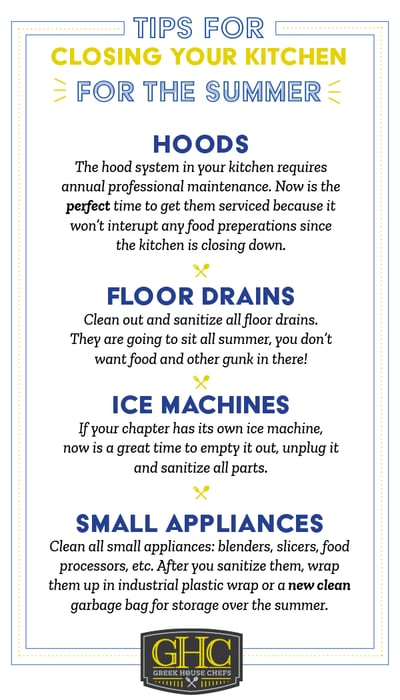 Related
In "Fraternity Food Service" , "Greek House Chefs" , "Sorority Food Service" , "Meet the Team"
In "Greek House Chefs" , "Meet the Team"