Meet the Team - Steven Troge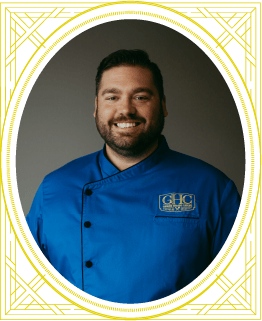 Steven Troge is one of our two amazing Sales Directors at GHC and has been with us since 2017. Steven has prior experience in sales, but his love for the Blue Coat Army is what has kept him with us all these years and made him a part of the GHC family! Steven says he loves Greek House Chefs because of its open collaborative environment that allows everyone an opportunity to put their own stamp on the company's growth and success. "I enjoy the opportunity of having such a diverse role consisting of selling, coaching, travel, contract negotiation, and, at times, I still get to be in the kitchen. There is never a dull moment".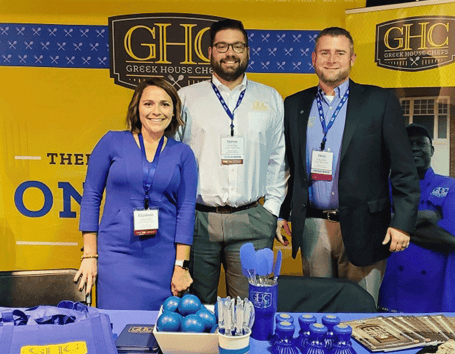 Steven has been a major asset to the sales team, and to the houses we work with. He is always looking to better the experience for our clients and follows through to ensure that we deliver exactly what we say we will. "I personally love the entire process of getting to know a chapter's pain points and customizing a meal experience they can feel proud of, and on to returning to the chapter after launch and seeing the hard work it takes from everyone to make the experience successful. A part of that is meeting parents at special events who thank us for following through with our promises and making sure their son or daughter is well fed and happy – that makes the job totally worth it".
At GHC we know that it's easy for us to "all sound the same", but Steven says to remember these things when looking for a new kitchen management company. "Choose a company you can depend on to follow through with everything they promise and is transparent. Anymore, the main foodservice companies do have similarities so it is important to ask each one the characteristics that make them different. How companies prioritize and allocate your resources should tell you everything you need to know about the relationship they wish to build with you and level of quality in staff and food they will provide. Companies should all be within a competitive range of pricing, however, understanding those allocations will begin to separate those who may be genuinely invested in mutual successes and those who may be cutting corners in salary or food budget to profit an unfair amount".
We hope you will take these items into consideration when choosing a new kitchen management company, and remember how invested Steven, and the rest of our Sales team is in our clients' happiness.
Next time you see Steven on campus ask him about the time he spent living in Barcelona, Spain!
Related
In "Greek House Chefs" , "Meet the Team"
In "Chapter" , "Blue Coat Chefs" , "Fraternity Food Service" , "Sorority Food Service" , "GHC" , "COVID-19"
In "Blue Coat Chefs" , "Greek House Chefs" , "Food" , "Recipe"