Reliable, customizable, and fresh options for Greek Life food service
At Greek House Chefs, we have worked hard over the last 14 years to build our company according to our client's needs. We tailor our services to fit your needs, wants, and expectations. As Greek Life changes and grows year to year, so does Greek House Chefs. We strive to be a company that gives you delicious, healthy, and fresh food while taking the weight of the "behind the scenes" duties off your shoulders.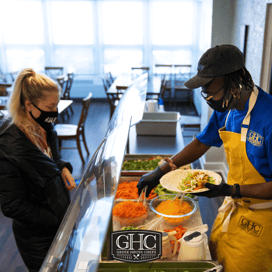 At GHC we don't believe in "one size fits all". We believe in giving every client a food service that is customized to meet the wants and needs of their specific chapter. This means custom food service, events, and more from Ithaca New York, to Seattle Washington.
Need food service 3 meals a day for 5 days a week? We can do that!
Need food service 7 days a week, but only brunch on the weekends? We can do that too! We can work with any number of chapter members, with any special dietary needs, on any budget. It's your food service, just the way you want it.
Not only do we custom tailor our food service to fit your exact needs, we also offer great benefits. Late plate customizations, allergen accommodations, an exclusive App just for Greek House Chefs clients, Traveling Chefs so you never miss a meal, and more.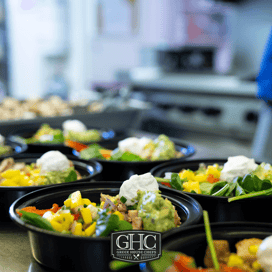 The GHC App plays a vital role in communicating with our clients daily. On the app, you will find your menu for the week (and the week ahead), you can rate your chef and your meal, you can contact upper management with any questions, let us know about any allergies or dietary restrictions, and you can request a late plate if you are not able to make it during mealtime. Not only can you request a late plate, but you can also let us know what items you would like us to put in your late plate based of that day's menu. If you have an allergy or dietary restriction you can let us know on the app so your Chef will always have something available to accommodate your needs.
Another perk of having Greek House Chefs as your chapter's food service company is that we are a team of chefs! We have a special team of Traveling Chefs and Training Chefs who travel all over the nation year round to make sure our kitchens are properly trained and well equipped. Our Traveling Chefs are there to cover your Chef if they are sick, ensuring your chapter still receives top-notch food. Did your Chef just have a baby? We will cover for them so they can enjoy their paid maternity/paternity leave and you don't have to worry about who is going to cook while they are at home enjoying their new baby.
Greek House Chefs will always be growing and adapting to what works best for our clients, these are just a few ways we can do just that. For more information on how to get your own customized food service with GHC click here.
Related
In "Chapter" , "Blue Coat Chefs" , "Fraternity Food Service" , "Sorority Food Service" , "GHC" , "COVID-19"
In "GHC" , "Recipes" , "Tips & Tricks" , "Recipe"
In "GHC" , "Food" , "Recipes" , "Tips & Tricks"