Return to Food Service, COVID-19 Style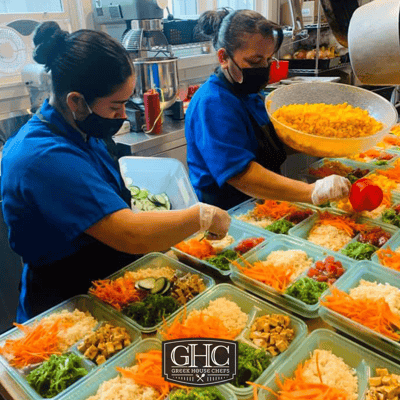 With the start of a new school year (and in the middle of a pandemic, no less) there are a lot of changes everyone will be seeing on their campus, in their houses, and around town. One thing that has remained unchanged is our dedication to you. Providing fresh, wholesome, and delicious meals to students while maintaining a safe and clean environment has always been our number one goal at Greek House Chefs.
We understand this can be a difficult and concerning time, and we want to do our best to assure you that the food in your house is not one of those things that needs to be on your worry list. Greek House Chefs has extended our already extensive list of precautionary measures and taken extra time to train each and every one of our chefs to ensure no step is forgotten.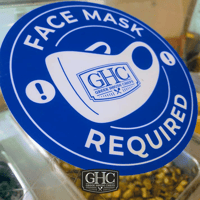 Gloves? Check!
Mask? You betcha!
Temp checks? Yes indeed!
Social distanced service? Ding!
Our chefs will never enter your kitchen while feeling ill. Temperatures are taken every morning before getting started in the kitchen, and we are receiving contactless deliveries from our vendors, as well as following guidelines above and beyond what is recommended by the CDC, ServSafe, and local health organizations.
Not only are our Chefs working hard to stay safe and keep your students safe, we are also working hard to remind students to maintain social distancing by placing directional signage on the floor, 6 feet apart, so there is always a constant reminder for the students to keep a safe distance between each other. Extra sneeze guards have been put in place, mask required signage, and Grab n Go single serve meals are being served to ensure students feel comfortable and safe about the delicious meal they are about to eat!
It is our pleasure to take on these extra precautionary steps and work with your house in doing whatever makes you and your students feel comfortable in these extraordinary times. If you are not part of the Greek House Chefs family, and feel you are missing some of these important and very necessary steps in providing a safe atmosphere for your students, please reach out to us and let us know how we can help!
Related
In "Fraternity Food Service" , "Greek House Chefs" , "Sorority Food Service" , "Meet the Team"
In "Greek House Chefs" , "Meet the Team"
In "Chapter" , "Blue Coat Chefs" , "Fraternity Food Service" , "Sorority Food Service" , "GHC" , "COVID-19"