Summer at GHC, a note from the owner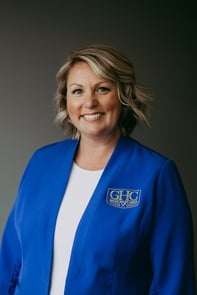 Welcome back to your Chapter Houses, Greek House Chefs Fans and Foodies! This is Carey Hansen, Owner of Greek House Chefs. We hope that you are settling in nicely and getting back into your routines as we begin food service at Chapter Houses all over the nation. We are thrilled to be back in your kitchens, doing what we love to do most, cooking nutritious, flavorful, and healthy meals. We know that's what brings your chapter together and it means the world to us to help make that happen. When we "Bring 'em Home" we know we are doing it right!
Many years ago, when Greek House Chefs was primarily based in the Midwest on 2-3 campuses, our summers were leisurely and relatively quiet. We would take 8 weeks off to go fishing, swim, take long road trips across the state with our families, and pick up a temporary kitchen job to keep our creative juices flowing over the summer. My, how things have changed over the years!
With over 100+ employees last year and adding almost 70 more Chefs this year to make this upcoming 2018 – 2019 school year our biggest and best yet, we've been busy this summer. Scouting, interviewing, planning, strategizing and collaborating means that our team worked tirelessly all summer long to make the 2018 fall semester launch a complete success. It also means that 20+ of our most qualified Chefs from within the company were promoted and relocated onto to new campuses as Area Managers. We are so proud of the fact that we promote entirely from within. Our Campus Managers are hand selected by our Upper Management team and promoted internally within Greek House Chefs.
In June, our teams flew in from all over the country to spend a week at headquarters in Des Moines for an immersive GHC Training. This team of 30 + chefs and managers were hosted in true "Iowa" style to everything Des Moines has to offer. We spent our days learning and collaborating about how our jobs are so important within the Greek Community, and how we can improve our services. Our evenings were spent getting to know each other at a baseball game, dinner out and a special cookout hosted at our house where Owner and Chef Corey Hansen put together an over-the-top homemade Taco Bar alongside Chef Josue's famous chimichurri sauce.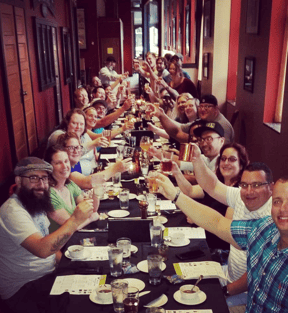 We enjoyed hosting our dynamic team of Chefs to a backyard gathering on a breezy, beautiful Iowa night. We lit the fire pit, played outdoor games and had a fantastic time spending one on one time with our team. As Owners, it's important to Corey and I that our team feels valued and trusted …because THEY ARE! After all, they are a direct reflection of Greek House Chefs and we always want to empower our entire staff to showcase our Greek House Chefs philosophies.
After our GHC Managers meeting in June, we dug our feet in throughout July and finalized new hire paperwork, contracts and vendor agreements. Our team ordered hundreds of Blue Chef Coats, organized weeks of travel schedules, printed thousands of pages of Training Manuals and spent hours upon hours working out every single detail of the 2018 fall semester food service launch. As an Owner, I can say with 100% certainty that we have the best team on the planet. Our managers and Chefs work on another level and it is so impressive to watch this team grow together and "find their groove".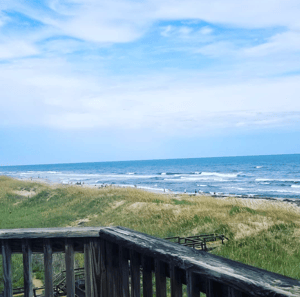 At the very end of the summer, after all our hard work was nearly complete, we treated our management team to a little bit of R&R on a very beautiful beach in NC to rejuvenate and refresh before the school year got started. We cooked together, swam together and played some pretty hilarious games of Sherades. Have you ever gone on vacation with 10 professional chefs? Oh man, did we eat! Time spent together finalizing service details and idea sharing on the beach and over dinner is just what we needed to come back refreshed and ready to dive into food service. That is exactly what we are all doing today! Our team is all over the country as I type this, training, working, and showcasing our Greek House Chefs' vision of what great fraternity and sorority food service should be. Corey and I couldn't be more proud of our team across the country. We look forward to sharing a meal with you at your table this year.
Sincerely,
Carey Hansen
Owner, Greek House Chefs