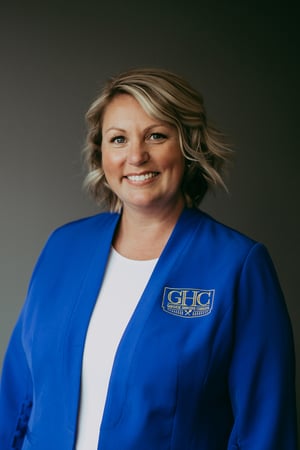 When Carey Hansen started working in the food industry at age 14 she never imagined she would end up where she is today as the co-owner of Greek House Chefs. Although she might not have seen herself owning her own business, she has every bit of experience and expertise to run GHC as a well oiled machine.
Carey has waitressed, bartended, bused tables, etc., you name it and chances are she has done it. "I absolutely love running an expo line on a busy weekend. I've been a restaurant manager in large restaurants, and I have also opened new restaurants as a General Manager," Carey shares while explaining her experience in the food industry. "After being burned out of the restaurant industry, I moved on to food service sales. I found my home at Loffredo Fresh Produce for many years selling the best produce to Iowa's top chefs. It was my second favorite job, right after Greek House Chefs of course". Carey's knowledge of food and service has come full circle, as GHC is proud to use Loffredo Fresh Produce as a supplier to many of our Greek houses.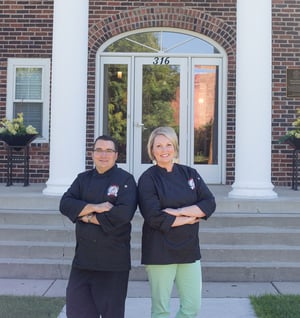 After 7 years at Loffredo, Carey decided to jump into GHC full time and put her skills to work helping build Greek House Chefs to where it is today alongside her husband Corey. "There are several important factors that I believe make us stand out from the competition and are the reason for our success today," Carey shares. "Corey and I, as owners, are very involved and will do anything from the dishes to meal service to jumping on a flight last minute to cover a sick chef. We also have a team that has become our family and our Management loves GHC just as much as we do. Taking care of our chefs is just as important to us as taking care of the fraternities and sororities we service," Carey shares about the business. "We also have two of our daughters in college and involved in Greek Life, so connecting with our students is something dear to our hearts now more than ever before."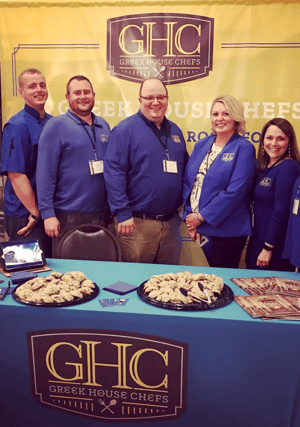 Carey's favorite part of being an owner of GHC? "Our team! We truly are a family. We spend time together outside of work, not because we have to, but because we want to. I've seen our management team grow from chefs in a chapter house kitchen on a single campus to now being the Director of Operations and our National Director. Now, they are running a nationwide company and promoting other chefs from within our family into managerial roles across the country. It's incredible! Our chefs across the nation make me so proud as a business owner. We talk all the time, sharing photos and ideas. When I hear our chefs talk about how much they love their job, it fills me up with pride."
To learn more about Carey and the Blue Coat Army, watch our new video here.
Related
In "Fraternity Food Service" , "Greek House Chefs" , "Sorority Food Service" , "Meet the Team"
In "Greek House Chefs" , "Meet the Team"