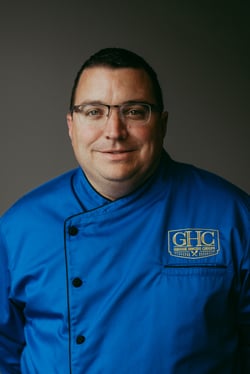 Over ten years ago, food at fraternities and sororities was less than appealing and often made up of frozen, pre-made entrees and desserts. That is, until Chef Corey Hansen started Greek House Chefs and changed the industry forever.
Corey entered the Greek Life scene when he answered an ad for a Private Chef position at Gamma Phi Beta at Iowa State University. He immediately noticed the amount of processed, frozen, and canned items that were being served and knew there was a healthier and fresher way to feed the women in his chapter. He quickly replaced those items with fresh produce, homemade dressings, sauces, soups, from-scratch desserts, and simple home cooked food. It didn't take long for the other sororities and fraternities on campus to notice the food at Gamma Phi Beta and demand the same food in their kitchens. From that moment, Corey knew he wanted to take his job as a private sorority chef a step further and he created a whole team of elite chefs with the same common goal, enter Greek House Chefs.
Prior to GHC, Corey gained his experience and knowledge of food service through multiple outlets. He started working in the food service industry at the age of 14, and his love for everything culinary turned into his lifelong passion in his high school home economics class due to an inspiring teacher who saw the talent Corey has for food. From there, he attended Culinary School and continued on to work for award winning Chefs after graduating.
Eventually, Corey made his way to Des Moines and worked under the one and only, Chef Troy Trostel, "He taught me more in his kitchen than I ever could have imagined" shares Corey. He took his knowledge from Chef Trostel and became an Executive Chef at one of West Des Moines' hottest new restaurants. This is where he met his wife and co-owner of GHC, Carey Hansen. "She was the General Manager at the time and she was actually the one who hired me. Being two foodies who love the industry, it was obvious that we were a perfect match," Corey remembers.
As he was getting GHC off the ground, Corey saw the value in great tasting, fresh food made by real chefs, and knew that being invested in the Greek Life experience was key. "GHC is ahead of the industry because we truly care about our students, and we know that each promise we make is a big deal to them. We work hard to make sure that we do exactly what we say we're going to do. We don't send in our sales team to make promises that we can't keep. Our sales team gathers information about exactly what the chapter wants, and brings it back and our operations team and Upper Management makes an action plan customized for each and every chapter."
"Traveling is a huge part of what we do at GHC. We might be based out of the Midwest and using Midwest values, but we have chapters nationwide and it is essential to me to be involved and on-site as much as possible," shares Corey. Although he is busy running a national company with over 175 employees alongside his wife, Carey, he is always traveling to our chapter houses spanning over 42 campuses ensuring that every meal that is the best of the best.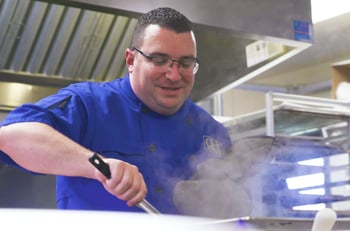 "I love getting in the kitchen, rolling up my sleeves, and working alongside our Chefs. Our Blue Coat Army is amazing! Every time I am in a kitchen I'm blown away at the skill and passion our chefs have. They are true foodies, and boy can they cook! Our Chefs use sous vide machines, bake their own bread, make their own butter, render duck fat, and even create trending foods like Chef Kevin's homemade Kombucha," Corey tells us as he explains the importance of the skill it takes to be a Blue Coat Chef and part of the elite Blue Coat Army.
Greek House Chefs is here to inspire students to come to dinner while expanding their palates and encouraging them to try new things. Corey knows the important role that good food plays in a thriving chapter house, "We know that when students have excellent food at their fraternity or sorority they want to be right there in the chapter house with their brothers and sisters, and THAT is what keeps Greek Life healthy and thriving". Keeping our Greeks happy and well-fed is what goes through our chefs' minds each morning when they step into their chapter's kitchen and sharpen their knives.
"After 12 years of being in the fraternity and sorority food service industry, we've recently been able to experience Greek Life full circle. We have 2 daughters in college, and can definitely be stressful," shares Corey. "We know what it feels like to send them off to school and how scary it can be not knowing that they are eating nutritious and quality foods because we're no longer the ones making it for them. It's important to me that our Chefs take care of the students as if they were their own children. Our Chefs are serving up nutritious, homemade meals to busy fraternity and sorority members, and I feel like we are taking care of what is most important…the students" Corey shares.
For more information on how Corey started Greek House Chefs, and to see our new video click here.
Related
In "Fraternity Food Service" , "Greek House Chefs" , "Sorority Food Service" , "Meet the Team"
In "Greek House Chefs" , "Meet the Team"