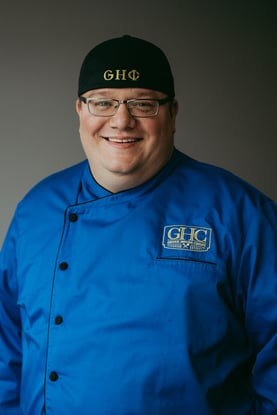 If you need someone who can do everything (and we mean everything), Frank Hines is the man! Six years ago, Frank started with Greek House Chefs as an Executive Chef on the Iowa State University campus, became the campus manager shortly after, and worked his way up to become our Director of Operations.
Before he came to work for GHC, Frank attended Iowa State University and was a valued member of the Delta Sigma Phi Fraternity. Frank was a professional in the industry before the industry even existed! He worked as a Food Steward for Delta Sig planning the dinner menu for 60 members of his house along their longtime private chef, Ira. He graduated with a Hotel, Restaurant, and Institutional Management Degree and then went on to later attend Le Cordon Bleu of Culinary Arts: Chicago. Frank made his move back to Des Moines, IA working as a chef at a 5-star restaurant, Splash Seafood. From there, Frank was given the opportunity to help open Jethro's BBQ. As an Executive Chef, he created most of the menu items that are so popular today (the signature rib rub, a Frank Hines original). Frank moved his way up to Executive Management, in charge of the day-to-day operations of the restaurant: hiring, scheduling, monitoring costs, etc. After Jethro's, Frank joined the Greek House Chefs family.
Being part of the Greek community and working in the kitchen has come full circle for Frank. As a Greek Life alum, he knows exactly how important it is to have good food in your chapter. Great food equals high attendance at meals, which equals bonding time between brothers and sisters, and we know there is nothing more important than bringing chapter members together for fellowship. "When I was in my fraternity, I remember making it a priority to get back to the house after class to get in line for lunch or dinner so I wouldn't miss the meal and the bonding time I got with all of my brothers," Frank recalls. "Friendships were built at dinner every night and I still have a lot of those friendships today".
As the Director of Operations, Frank spends most of his time at the Corporate office running the daily operations, but he takes every chance he can get to sneak off to a campus to get in a kitchen. One of his favorite parts of being in the chapter houses now is watching the interaction between our chefs and the students. "It's awesome to watch how much the students love their chefs and how they treat them like they are truly apart of the house. I love seeing the creativity that our chefs use to make sure all of their students are happy, because it shows how invested our chefs are with their chapter."
Being part of a company that is so dedicated to making sure every member of our team is highly trained and skilled is an important factor Frank takes into consideration every time he and his team add another member to the Blue Coat Army. "GHC is a company that was started by a chef, is managed by chefs, hired by chefs, trained by chefs, even our sales reps are chefs. This makes us hard to beat because of the talent and expectations we have for our chefs. We accept nothing less than from scratch, healthy food at every meal" Frank shares. "We hire and pay our chefs the best out of any of our competition and that makes a difference in our service. When we hire for your chapter you are not going to get a line cook. We meet with our sales team to get the details on exactly what your chapter is looking for and look for a chef with those exact qualities to put in your house." "Think of it like Match.com for chefs and your chapter house," Frank explains.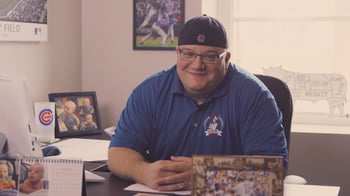 Frank's confidence in GHC as a whole is something he is extremely proud of, and he is eager to share what we are about to anyone who will listen. "When you sign a contract with GHC, you are signing a contract with the best fraternity and sorority foodservice company out there. We expect nothing but the absolute best from our management and our chefs." He goes on to say, "We are a company supporting the entire Greek community, not just our houses. A lot of us were a part of a chapter and we understand that the Greek culture needs to be growing, learning, developing, and always changing in order to succeed".
To learn more about Frank Hines and what it means to be apart of the Blue Coat Army, watch our video here.
Related
In "Fraternity Food Service" , "Greek House Chefs" , "Sorority Food Service" , "Meet the Team"
In "Greek House Chefs" , "Meet the Team"