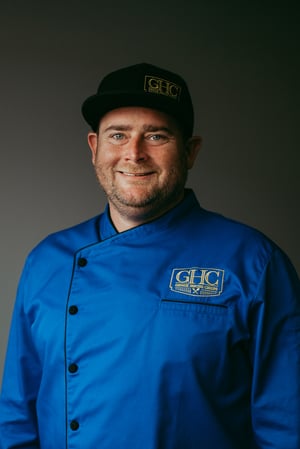 Heith is one of the most dedicated, fun loving, and hardworking individuals you will ever meet. When he isn't serenading someone in the office with his lovely singing voice in between conference calls, Heith is on the road and in our kitchens working alongside his fellow chefs teaching, building, and perfecting the #GHC service and fraternities and sororities across the nation. Heith has grown with Greek House Chefs for the last 7 years and has truly worked his way up the ranks of the Blue Coat Army. Heith started out as a Chef at his alma mater, Beta Theta Pi at Iowa State University. From there, Heith saw the potential in GHC and insisted on growing the company to what it is today. Heith is now the National Sales Director and helps oversee all of our chapters on more than 42 campuses.
Because of his time living in the Beta Theta Pi chapter house, he truly understands the inner workings of the Greek Community and is the expert on the day-to-day needs of our students. He acts as an advocate for the Greek experience every chance he can get within Greek House Chefs. Knowing that the tides are changing within the Greek community, it is his mission to bring students home to dinner. Some of his fondest memories come from crowding around the dinner table with his brothers sharing a meal. If you've ever met Heith, you can clearly see why he was the Social Chair for his chapter. He takes great pride in helping our chapters put on the best events on campus. Over-the-top food and service are the keys to a signature Heith Sheeley GHC event.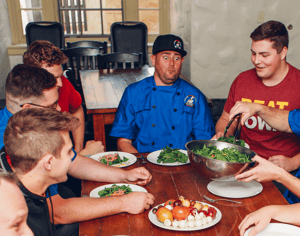 Heith understands firsthand how essential great food is to a chapter. "It's the blood line that brings members together and gives them the brotherhood or sisterhood bond they are there for," states Heith. "Especially when you have out of house members, it is imperative to have great food to bring them home for dinner! What goes on in the dining room is often the reason people join a Fraternal organization. We care about the stability of Greek life and we will continue to show our support for all Greek life, even outside of the kitchen."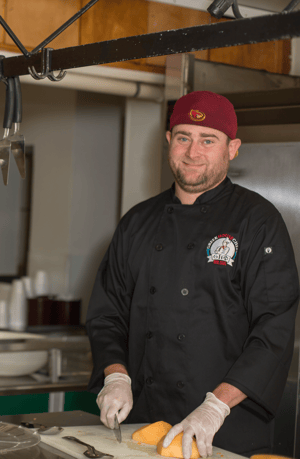 Heith considers the Blue Coat Army his family, and the chapters that we take care of daily are like our brothers and sisters. To see Heith's passion for GHC up close and personal, take a look at our new video and see him in action! If you ever see him on campus, make sure you ask him to make you his famous bread pudding. You won't be disappointed!
Related
In "Fraternity Food Service" , "Greek House Chefs" , "Sorority Food Service" , "Meet the Team"
In "Greek House Chefs" , "Meet the Team"
In "Chapter" , "Blue Coat Chefs" , "Fraternity Food Service" , "Sorority Food Service" , "GHC" , "COVID-19"