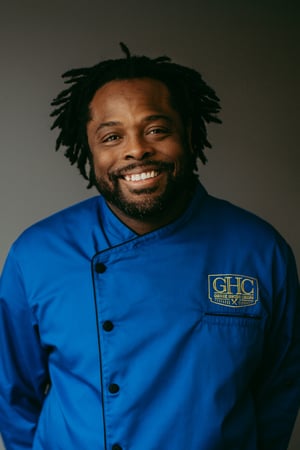 All the chefs at Greek House Chefs are passionate about what they do, and Jarrod Davis is no exception! Jarrod found a passion for cooking when he was growing up watching his grandmother and mother cook for his family. It was then that Jarrod decided he wanted to pursue his dreams of being a chef.
After graduating from Johnson and Wales University in Denver, Jarrod and his family moved to Florida where he worked under many talented chefs such as Michael Mina, Chad Johnson, and Chris Ponte. When Jarrod and his family were ready for a change of pace in the fall of 2016, Jarrod joined Greek House Chefs on the Iowa State University campus as an Executive Chef at Beta Theta Pi.
Jarrod quickly showed us that his talents are not just limited to the kitchen, but that he is also an excellent team builder and leader. "As Culinary Director, I love visiting our chefs around the nation and seeing how their passion for food translates to the delicious meals they prepare for students day in and day out. Seeing Chefs prepare the food they love and share that with the students is truly beautiful," Jarrod shares.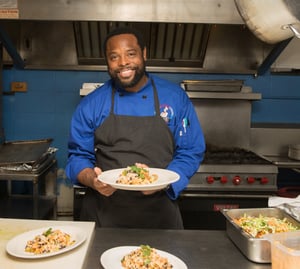 When asking Jarrod why he believes food service is such an important part of every chapter he shared with us, "Our culture is heavily centered around food, and we create some of our best memories around tastes and flavors. Every alumni I've talked to while traveling always talks about their time spent sharing meals with their brothers and sisters. That is why our job is so important, we are the glue that brings these relationships together".
Jarrod shared with us that he feels the Blue Coat Army works hard every day to be the glue that brings brothers and sisters together at every meal, and it wouldn't be possible without the talented Chefs on our team. "Greek House Chefs has a family atmosphere to it and we are constantly lifting each other up and sharing ideas. Being around a group of like minded Chefs who care about the students they are working for is what makes us so successful. You won't find a collection of Chefs more dedicated to taking care of the needs of your chapter," Jarrod explains.
For more information about how to get a Blue Coat Chef like Jarrod involved in your chapter, check out our website.
Related
In "Fraternity Food Service" , "Greek House Chefs" , "Sorority Food Service" , "Meet the Team"
In "Greek House Chefs" , "Meet the Team"