Who is... Jordan Higgins?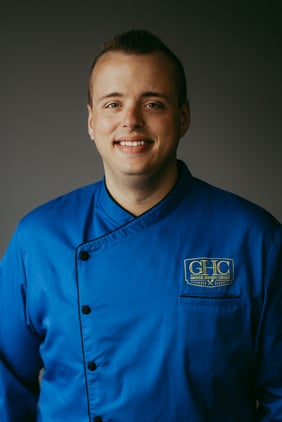 What do you get when you take a hard worker, semi-funny jokes, and an incredible made from scratch cookie recipe? You get East Regional Executive Chef, Jordan Higgins, of course. Jordan has been with Greek House Chefs for over 5 years and got his start with the company in the kitchen at ATO at The University of Kansas. From there, Jordan worked his way up to Area Manager before coming to the corporate office in Des Moines, Iowa as the East Regional Executive Chef.
Jordan has been in the food and restaurant industry for 15 years, and his love for culinary started in high school when he was part of the Olathe North Culinary Program. His team went on to win the State Championship in 2008 and placed 12thin the Pro Start National Championship. After high school, Jordan attended Le Cordon Bleu in Orlando, Florida and then worked his way up in the industry starting as a line cook in resorts and hotels, and worked his way up through the rank at GHC.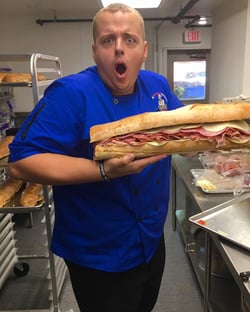 Greek House Chefs is where Jordan has found his forever home in the food industry and he is eager to share why GHC is so important to not only him, but also for sororities and fraternities around the nation. "Our goal as a food service provider is to highlight the chapters that we service. We want to promote the chapter by providing food that is at the next level and stands out from all the rest. That is how we 'Bring 'Em Home', and in return it helps us build great relationships and we have grown organically from there."
Jordan's passion for food and providing excellent service is something that he feels very fortunate that he gets to share with everyone else he works with at GHC. "We are scratch made, sourced from local produce companies, and have qualified Chefs in every one of our kitchens. There are no short cuts and we never intend to be the cheapest plan available. Cheap does not add up to above and beyond service, and over the top service is what we strive for each and every day," Jordan explains. "Our level of service is unmatched in the business, and it's because of the amazing leadership we have here at Greek House Chefs. It all starts with the owners, Carey and Corey, who have poured their heart and soul into this company. You feel it on every campus across the country, and it has created Chefs who never see themselves working anywhere else. Everyone in Management, kitchens or traveling for us throughout the year are just as passionate about GHC as they are about being a Chef. You can't buy that for a business. That is something that must be grown from the start, and Carey and Corey are the ones that have made that possible."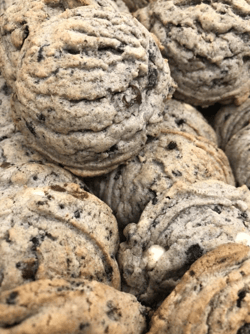 When we asked Jordan what his favorite thing about GHC is, he told us, "I love people, I love to cook, and I love being passionate about something that I strongly believe in. Greek House Chefs checks all those boxes for me. 5 years ago, if you would have told me I'd be doing what I'm doing now and getting paid for it, I would have never believed you. Now, I can't imagine doing anything else. I am a GHC lifer, and I strive every day to instill the same passion in our chefs that the Owners instilled in me when I first started".
For more on Jordan Higgins and what being a Blue Coat Chef means to him, check out our new video here.
Related
In "Fraternity Food Service" , "Greek House Chefs" , "Sorority Food Service" , "Meet the Team"
In "Greek House Chefs" , "Meet the Team"