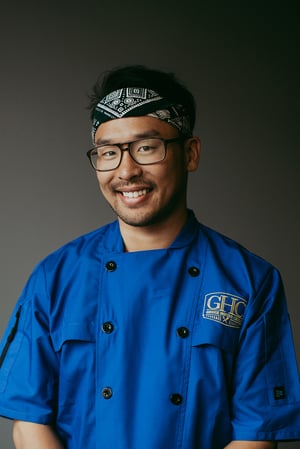 Every Chef has one dish they are famous for, and if you know West Coast Executive Chef, Lee Wilkins, you know that Bang Bang Shrimp is his dish (trust us, you HAVE to try it)! Chef Lee got his start with Greek House Chefs back in 2009 as one of our first employees. He worked his way through the ranks, starting in a kitchen at Iowa State University as Executive Chef, and moved up to Area Manager of Washington State University before moving back to Des Moines to join us in the corporate office.
Lee graduated from the Iowa Culinary Institute and was eager to learn every position in the food service industry. "I've done everything from fine dining to quick service in both the front and back of the house. I've always strived to be well rounded in the industry. It takes many parts to make something run smoothly and I think having a deeper understanding at every level can only make you and your team better".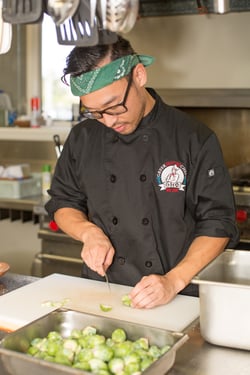 All of the knowledge and experience Chef Lee has gained from his experiences in restaurants throughout the nation are what have made him into the talented Blue Coat Chef he is today. "I believe that we are doing some truly important work here at GHC. The food service we provide at each chapter is multi-layered. We work hard every day to make sure that not only do we provide fresh and great tasting food, but that we also provide comfort in knowing that you can rely on us and we will take care of it all, we will support you and take all food related services off your plate…pun intended," Lee explains.
You can tell how passionate Lee is about the Blue Coat Army whenever you talk to him about the company. "The heart of our model is the food, and the soul is our chefs. We aspire to attain high quality and personalized service at every meal, and we have fun while doing it. I love getting to see Chefs who genuinely enjoy their jobs and get to use their own creativity every day".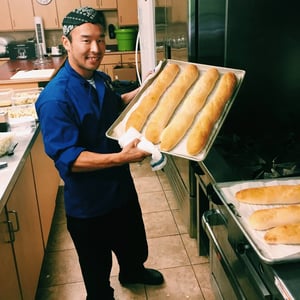 Greek House Chefs is always adapting and changing with the Greek Life community and we would not be able to do that without our Blue Coat Army, Lee included. "We are proud of the fact that we are proactive in making sure we are doing the absolute best, and if we need to change something, we jump on it and figure out how to make it better. I think it is important for everyone to know that GHC really is more than just food in a chapter house. We are looking to raise the bar, and make Greek House Chefs services the expectation, not the exception in Greek Life meal plans."
For more information on what it takes to be a Blue Coat Chef like Chef Lee, check out our new video here.
Related
In "Fraternity Food Service" , "Greek House Chefs" , "Sorority Food Service" , "Meet the Team"
In "Greek House Chefs" , "Meet the Team"