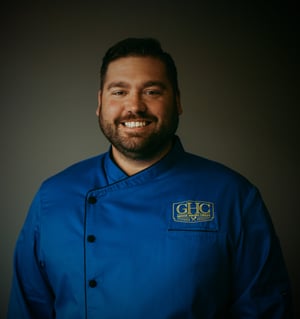 Steven Troge is one of the funniest and most loveable members of the Blue Coat Army at Greek House Chefs! His passion for food, people, and making sure others have a great experience are only a few of the key ingredients to what makes him such a valuable part of our team. Steven's entrance into the food industry began where a lot of chefs start, in the dish room of a kitchen. While it got him in the door, he knew that's not where he wanted to stay. Steven remembers, "I found myself obsessively watching the line and seeing the chefs work so calmly all while in this bubble of chaos to make great food, and I was hooked".
That spark Steven found in the dish room took him from a café to a lodge at Yosemite, and on to fine dining working for a James Beard Nominated Chef, and finally to his position as Sales Director at Greek House Chefs. "People talk about finding their forever home, well I have found my forever family and career," Steven says. Although Steven's main focus is on the sales side of business, he takes every chance he can get to get in the kitchen and connect with our Blue Coat Chefs. "The Blue Coat Army is my favorite thing about GHC. It takes more than a chef who can cook to truly become a part of something bigger with the company and our chapters. They are the backbone of everything and have the skills and personalities to prove it. Our Chefs are hands down the best team in the business," he shares.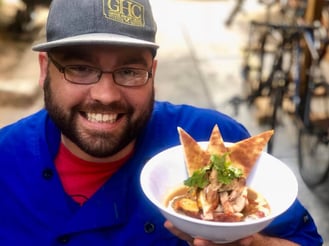 When Steven isn't in the kitchen with the chefs, he is meeting with various members in the Greek Life community making sure every aspect of our service is being met and exceeded. "I am involved from beginning to end. I meet with students, House Directors, Board Members, and National affiliates and begin to understand their specific needs. I then develop a plan to match those needs, and work with our incredible supporting cast to train and get service off the ground," Steven describes. "The whole thing comes full circle when I check in with our chefs on campus," Steven notes as he shares the steps he takes to help a new account get started when they sign with Greek House Chefs. "Nothing makes me happier than when those same students or chapter representatives thank me for doing what we said we would do all along. Better yet, a parent coming up to me at a special event saying 'thank you' for taking care of their son or daughter. It only further validates my belief in the company and all of our efforts to make our chapters successful".
Standing out from the crowd is something that is not only important to Greek House Chefs, but Steven as well. "Our chef retention, chapter retention, unwavering focus on dietary accommodations, service customization, and our responsiveness in times of need are all important things that make us stand out from our competitors. Our passion, energy, and adaptability make us the elite team. All of those things contribute to making us the only National food service company to not lose one of our chapters to a competitor last year," Steven shares.
To see more of Steven and his passion for helping others and working for Greek House Chefs, watch our newest video here.
Related
In "GHC" , "Recipes" , "Tips & Tricks" , "Recipe"
In "Greek Life" , "Donation" , "Philanthropy" , "COVID-19"
In "GHC" , "Food" , "Recipes" , "Tips & Tricks"